After a lot of talk, saving, and planning, my boyfriend and I finally made it to Italy. Italy (especially Tuscany) had been on my vision board for years. The plan was to visit some cities and towns on our own, and then join a group called Backroads for six days to hike around Cinque Terre (on the Italian Riviera) and the Chianti region of Tuscany.
I fell in love with Italy on our first day in Rome. The history, the language, the narrow cobblestone streets, the piazzas where everyone gathers, eating outside, and the FOOD. There were NO dietary restrictions for me on this trip. Of course, I had to eat pizza while in Italy at least a couple of times, indulge in several fresh pasta dishes, and savor gelato every evening (after all, it was really hot!) My green tea ritual in the morning became an espresso ritual, cured meat like prosciutto and fresh mozzarella cheese were a staple in my breakfast menu, and wine with dinner was a given. And wine sometimes accompanied lunch too! Although it was in the 90s (really hot for San Francisco people) and we were either walking the cities all day or hiking the backroads with elevation gain, I felt great and my new Italian diet really agreed with me.
Our meals by the sea in the region of Liguria were filled with fresh seafood like octopus, calamari, anchovies and mixed fish dishes with lots of grilled vegetables. Of course, there were always pasta options and pasta with pesto was very popular in this region. White wine was the color of choice and indeed the grapes of the Cinque Terre are used to produce two locally made white wines. And we got to hike through the actual vineyards! And of course, gelato for desert!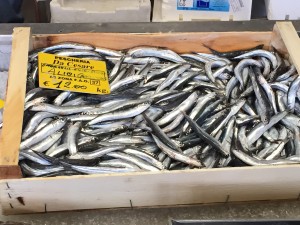 Heading inland to the Chianti region our meals shifted to "antipasto" of cured sliced meats and thin slices of lightly toasted bread spread with chicken liver pate, pasta with wild boar sauce, rabbit, Tuscan beef stew and the Bistecca Fiorentina (the largest
T bone steak I have ever seen!) and more vegetables. My favorite dish was the rabbit, with the Tuscan beef stew coming in a close second. Red wine was the color of choice here, and we fell in love with the Brunello di Montalcino. And of course we didn't pass up the Chianti Classico!!
In the six months leading up to this trip, I met so many people that have been to Italy and who shared their stories with me. Of course, talk of Italy eventually includes Italian food and I found that these same questions often came up:
Why can people who are gluten sensitive in the US tolerate wheat products like pasta in Italy?
Why do people who have dairy intolerance in the US do just fine with gelato in Italy?
Why can a person drink wine in Italy and not get headaches but get terrible headaches here in the U.S. after a glass or two of wine?
And my own questions:
Why is their olive oil SO much better? We have lots of olive trees in this area of the country…
Why are their tomatoes so much tastier?
And where do you find a gelato in this area that tastes like Italian gelato? If you know the answer, please let me know!
Of course, there have been various explanations for all of these questions. I have heard folks claim that there is less gluten in Italian wheat products, less added sulfites in their wine, and less preservatives in the gelato. Well, all wines contain sulfites because they are a naturally occurring by product of fermentation. And European winemakers DO add sulfites to their wine, especially if it will not be consumed within a short amount of time (to prevent the wine from spoiling). They just don't have to add the warning label that their wines contain sulfites!
Perhaps the answer is when you are vacationing you just digest better because you are less stressed and you take time to eat your meals and really enjoy them! And maybe when you drink wine in Italy you are drinking wine with big hearty meals over a longer period of time and then walking it all off afterwards. I prefer to leave it a mystery and enjoy the magic of it all when I return!! Maybe we can learn something from Italians when it comes to eating and enjoying our food!
P.S. Several folks in our Backroads hiking group had dietary restrictions (gluten free, red meat free, vegetarian) and were served plenty of fresh food alternatives that were delicious! And a large percentage of Italian restaurants now serve gluten free pasta.
Please join me on my Facebook page next week as I post my photos on eating my way through Italy!