I can smell mold a mile away. When I smell it, I run for the hills. Antique shops are the worst for me. I last about five minutes before I have to go outside. When I was in my early 30's, I started to have night sweats. How could I be getting night sweats in my early 30's? What was going on? Thankfully, one of my instructors alerted me to the fact that it could be something in the bedroom environment. At the time I was living in Santa Cruz, just a few blocks from the ocean. A lot of moisture in the air and one entire wall of the bedroom never got any light. I called a mold specialist to test for mold in my home. Sure enough, there was plenty of mold! Thankfully, not black mold! I left the house for a long weekend while the mold was cleaned up. Miraculously, my night sweats went away!!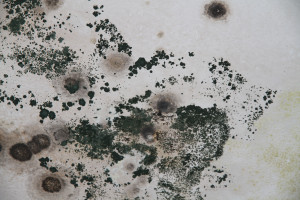 Mold exposure is more common than we think. Molds grow best in warm, damp, and humid conditions. Mold can spread and reproduce by making spores. Mold spores can survive harsh environmental conditions, such as dry conditions, that do not support normal mold growth. Molds are commonly found in bathrooms, kitchens, basements, and around metal framed windows. Leaky roofing can also lead to indoor growth of mold. Molds often persist after a one time flooding with improper remediation. You may move into a place and not even know that there was a flooding that took place or that the roof is leaky. It is always a good question to ask before you move into a new place!
What are common symptoms of mold exposure? Nasal stuffiness, eye irritation, wheezing, and skin irritation are milder symptoms. Severe reactions may include fever and shortness of breath. The symptom list does not stop with upper respiratory issues. You see, mycotoxins are chemical toxins on the surface of the mold spore, which you unknowingly inhale or touch. These mycotoxins can be just as harmful as exposure to heavy metals and other chemicals. The symptom list is extensive, as these mycotoxins can make their way into just about any organ of the body. A short list of more common symptoms include debilitating fatigue, brain fog, memory issues, behavioral changes, and joint pain. Sadly, many people feel so ill and have no idea that mold is causing their distress!
There are various types of mold. The most common forms of mold are aspergillus, cladosporium, alternaria, and stachybotrys chartarum: the dreaded 'Black Mold'. If black mold is present in your home, the best solution is to move and leave your belongings behind. All belongings will be contaminated. If you do not have black mold, you can have the mold professionally cleaned up.
Not sure if you have mold in your home? Call a licensed air testing company that is independent of a mold remediation company. Mold testing needs to be done outside and inside the home. Why? Because there will always be some mold inside the house, coming from the outside. The problem arises when the mold count inside is higher than the mold count outside. The issue with mold plates (which are often used to test for mold) is that the plates will always show some mold coming from the outside and they generally do not test for black mold.
If you find out that you do have mold and it can be cleaned up, take the following precautions to prevent it from coming back:
• Keep humidity levels as low as you can. An air conditioner or dehumidifier will help you keep the level low.
• Be sure your home has adequate ventilation, including exhaust fans, especially in bathrooms! Avoid carpet in bathrooms and basements. Best to avoid it throughout your home!
• If you had water damage to your home, from one time flooding with improper remediation, then follow these steps:
Pull up the carpet and dry it out
Remove and replace the pad
Remove and replace the wall board
And of course, if you are sensitive, hire a professional to clean up the mold!
In Part II, I will be discussing how to test for mold inside your body and how to get it out of your body! Stay tuned!