I started this 7-part blog post series on decreased energy levels, with information on the energy-sapping foods that you take into your body. This post will discuss another culprit: caffeine…and how it can affect the quality of your sleep, leading to low energy levels, as well.
When looking at your sleep patterns, you should not only look at how many hours of shut-eye you get per night, but also how deeply you sleep.
Are you having a hard time falling asleep or waking up several times during the night?
Do you wake up feeling refreshed in the morning or do you feel like you need a tow truck to drag you out of bed?
How restorative is your sleep?
You can sleep for 7 to 8 hours, but if you are not sleeping well, then you will feel tired in the morning. In some people, even one cup of coffee in the morning can affect sleep quality and result in day-time fatigue…and drive the desire even for more caffeine.
It's a vicious energy cycle. But, you can take control…NOW!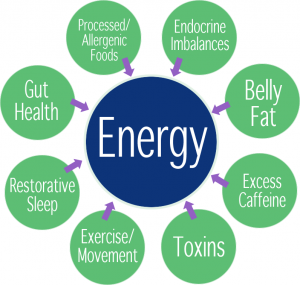 There are so many more energy-robbers, including stress, toxins and preservatives, fat storage, exercise, and endocrine imbalances. So, be sure to read the rest of this blog post series, "The Energy Cycle: How to Get Back Your Get-Up-And-Go."
And to help get back your get-up-and-go, I've found I've found that a three week cleanse program is an ideal place to start. It can immediately help flush the caffeine from your body and help you get more restful sleep.
To learn more about how the 3-week cleanse can help you, CLICK HERE!