Nothing like a coyote encounter while walking through the Presidio on an early Sunday morning. It is not the first time, but this time was different. The coyote was walking very slow and right to-ward me, watching me closely. And with no apparent intention of moving off the path. So I moved off the path, giving the coyote as much room as possible. Just a minute later I ran into a couple who informed me that there was a new coyote den and mama was of course very protective. Although coyotes usually go after chickens, rabbits, and sometimes dogs, they are wild and I felt the wild in this coyote.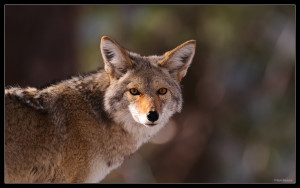 This made me think about a five part KQED series I watched called Earth, A New Wild, which explores the frontiers where man and wild animals meet. This is becoming more common as the human population grows and we lose land and forests to development. What I took away from this series is that we are a part to nature; we are NOT separate from nature. No matter how hard we try to separate ourselves from nature with our offices, vehicles, roads, technology, and grocery stores filled with processed foods, we still are a part of this huge ecosystem with all its delicate balances. And since we are a part of nature, we can also be a part of the solution when it comes to loss of forests, fish, animals, and clean oceans. And thankfully, there are so many great organizations dedicated to being a part of the solution.
There is so much that we CAN do, sometimes it feels overwhelming. Where do we start? What if we start simple with visiting a farmers' market every week and shopping for fresh, local, organic produce, pasture raised eggs, local olive oil, and meats from pasture raised animals? Shopping at a farmers' market has so many benefits for you and for our earth:
1. You get back in touch with nature by observing the seasons through the produce that is available in the summer, winter, spring, and fall. This is really hard to observe in a grocery store, since we import foods from all over the world!
2. You eat fresh and seasonal foods, which provide vitamins, minerals, and other nutrients to keep you strong, smart, and healthy. Nutrients were not lost in a long transportation process from another country.
3. You eat organic, which means that your body does not need to detoxify high amounts of pesticides found in conventional produce.
4. By buying foods at a farmers' market, you support farmers who use sustainable practices, which is good for our earth!
5. You engage your senses: especially visual, taste, and touch. Love the free samples!
6. You score great recipes from the farmers and other folks just eager to share their recipes.
7. Going to the farmers' market is a fun social activity, whether with your mate, friends or your family. And did I mention all the samples? 🙂
8. The farmers' market provides good people watching too!