When you hear insulin resistance, you probably think of diabetes or blood sugar issues.  When you have insulin resistance, your cells are not responding very well to insulin's message to take up the circulating glucose or sugar in your bloodstream for energy and suddenly you are on the path to Type 2 Diabetes. Your blood sugar remains high and your cells do not get the energy they need to perform optimally.  And you feel crappy.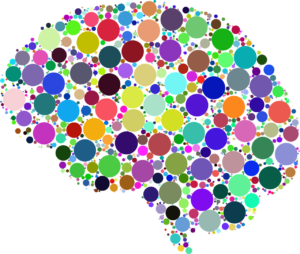 Did you know that insulin resistance also happens in the brain? Your neurons end up not getting the energy they need from glucose to produce energy and communicate with each other and your brain health suffers.  A slow down in energy metabolism caused by insulin resistance leads to oxidative stress, DNA damage, and mitochondrial dysfunction which then ultimately leads to inflammation.  A not so pretty cascade of events.
Dr. Dale Bredesen, author of  The End of Alzheimer's  lists insulin resistance as one of the major underlying causes of Mild Cognitive Impairment and Alzheimer's Disease.  This has also been called Diabetes of the Brain.
Maintaining optimal blood sugar levels is imperative to your brain health and the health of your whole body.  In fact, keeping your blood sugar levels in a healthy range is crucial to aging gracefully!  And the good news is that simple changes in diet and lifestyle can make your cells more receptive to insulin and bring down your glucose levels. You can be proactive about protecting your brain from insulin resistance!
Step 1: Get tested! Especially if you have not been to your primary care physician in awhile!  When you check in with your primary care physician each year, make sure that he or she is testing for fasting glucose. This means that you need to make your appointment in the morning!  Optimal fasting glucose levels are between 75 and 85 mg/dL.  Please note that optimal does not correspond with typical lab reference ranges.  If you start to see your blood glucose levels inch up every year, you most likely have the beginning stages of insulin resistance. Warning bells should be ringing when you start to see fasting glucose numbers in the mid 90's and alarm bells should be going off when you see numbers in the high 90's and 100's.
Ask your doctor to test for Hemoglobin A1c as well.  This lab value gives you a better picture of how you are managing your blood sugar levels long term – approximately a three month time period.  This is also a great test to do when you are assessing how your diet and lifestyle changes are impacting your blood glucose levels! Optimally, Hemoglobin A1c should be below 5.6%.
Knowing your numbers helps you determine how assertive you need to be with dietary and lifestyle changes and if supplements are needed to support lowering of blood glucose levels and to combat insulin resistance. It is never too early or too late to start testing and make changes!
If you need help figuring out what to do when you get your test results back, please set up a complementary strategy session with me here.