Are You Ready to experience less stress and more joy this Holiday Season?


Time for your pre-holiday 14 day quick and simple cleanse tune-up!
This is a simple to follow and convenient cleanse that you can do during the busy holiday season! And yes, you can even do this one while traveling!
---
The timing for this cleanse is perfect, right after Halloween and before Thanksgiving! Are you in? Join me Nov. 4th – 18th  to set yourself up to make better choices this holiday season and skate through the festivities without gaining weight! Which means starting the New Year free of regrets about over indulging in November and December!
This is NOT a juice cleanse or harsh colon cleanse that can leave you feeling weak and spacey. This simple yet effective program can be done while you are working and carrying on with your "normal" life. You will get plenty of calories and also feel full. And this 14 day cleanse is easy to follow and convenient. You may find it saves you time during the busy holiday season. You can even do it while you are traveling! I love this 14 day cleanse when you need a quick tune-up!
Why do it? Do you feel overwhelmed during the holidays? Do you find yourself eating a lot of sweets or drinking too much alcohol? Are your cravings out of control? Sugar overload and drinking too much adds to the stress of the holidays! Taking 14 days in early November to focus on yourself and your habits will set you up to glide through the holidays without excess stress and pounds!
This program is for you if:
You battle cravings for sugar, wine, cheese, and potato chips
You find chocolate irresistible
You struggle with weight, and feel bloated, especially around the middle
You retain too much water and can't get your rings off in the evening
You feel inflamed and your joints hurt or feel stiff
You are tired a lot and just want to have more energy
You can't control late night and stress eating
You can't find the time to prep healthy meals
You love going out to eat with your friends but then find yourself tired and bloated the next day
My clients that complete my cleanse programs commonly report:
▪ More energy
▪ Loss of belly fat, bloating and overall weight
▪ Clearer thinking; better focus
▪ Softer skin and hair
▪ Deep sleep
▪ Less mood swings
▪ The ability to deal with stress more easily
▪ Heightened awareness of foods that nourish the body and mind
Details: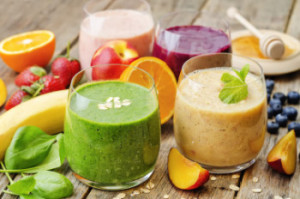 Drink two satisfying meal replacement shakes per day while still eating one healthy balanced meal and whole food snacks if needed. Most participants find that they get filled up with the shakes; but you do have the snack option!
The shakes are consumed for two weeks, for a total of 28 meal replacements. That means you only have to worry about one meal a day, which will save you a lot of time during this busy time of year!
The food powder for these great tasting shakes contains organic non GMO pea protein powder and special nutrients and herbs which fuel your detoxification pathways to help you get rid of toxins! The powder also contains greens and "reds" from veggies and fruits and plenty of fiber to fill you up! You will receive plenty of protein, vitamins, minerals, and other important nutrients by drinking these delicious shakes, and you can "change up" the shakes by adding different ingredients.
The food powder is tasty and you are provided with a handy to-go shake container, especially helpful for the mornings! The food powder comes in single serving size packets which is ideal for on-the-go situations!
Don't have a blender? That is okay. You can just add the food powder to your blender bottle and mix with water or unsweetened almond or coconut milk. This is ideal if you travel for business! And you can easily travel with the single serving size drink mix packets. I do this all the time!
If you do have a blender, you can have a lot of fun with recipes!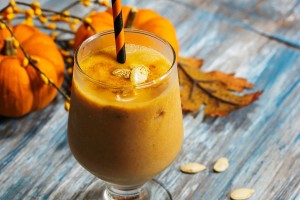 My favorite fall shake recipe includes pumpkin puree, organic frozen blueberries, cinnamon, nutmeg, and cloves! Yum!
Your 14 day program also includes capsule packets that you take with your smoothies. These capsule packets contain an enzyme that specifically digests the protein in your smoothie within 30 minutes. Faster absorption equals better use of the protein and minimizes bloating. The capsule packets also include specific nutrients that support Phase II liver detoxification, which are necessary to bind toxins and get them out of the body!
You'll receive a guidebook that walks you through the 14 day cleanse and includes your simple schedule, healthy food and snack options, samples menus, tips, and FAQs. You will also receive support emails from me every morning that include your daily motivation, more tips and recipes to help keep you on track!
In addition, you can post any challenges you have on the private group Facebook page and get support from me and your fellow cleansers!  Motivation and support are key to your success as you go through this 14 day cleanse and this program provides you with the tools to succeed!
And there's more!  To kick off the cleanse, I will host an introductory call to guide you through the cleanse do's and don'ts and answer any questions that you have.  The call will be recorded so you can listen to the recording if you can't make it live.
In summary you receive:
28 single serving size drink mix packets which will be the foundation for your smoothies
28 capsule packets which you take with your smoothies
Guide book
Blender Bottle

Daily emails from me which include recipes, tips, and encouragement, and a private Facebook page where we will support each other during the 14 days!

And an introductory live group call to answer your questions about the program!


BONUS: Sign up by Midnight PDT on October 29th and receive a bottle of my favorite Magnesium product! Magnesium is such an important mineral, acting as a co-factor in over 300 enzymatic reactions in our body.  Many people are deficient in magnesium because it is a mineral that is largely found in plant foods and it is depleted by stress!  This is a catch 22, because magnesium is a calming mineral!!  Taking extra magnesium in the evenings before you go to bed can help you have a more restful sleep and also helps with constipation.  It is really important to keep things moving while you are cleansing!  Magnesium, it's the perfect mineral add-on during the holidays.
---
What a perfect Holiday Gift!
$179.00 includes all of the above and we will do the cleanse together virtually.
If you cannot start with me on November 4th, you can still purchase the Pre-Holiday cleanse and start a little later, we will be waiting for you in the private Facebook group!