Our brains love NEW experiences. Including new experiences to our tastebuds! I don't know about you, but I tend to find a yummy smoothie recipe and then stick with it a long time…and then it starts to get boring! I was shopping at Whole Foods recently when they were sampling new products. Good day to go!
One of the samples was Harmless Harvest's raw coconut  water with added fair-trade coffee. Now I am not even a coffee drinker, but this was delicious! And low in caffeine too, which for me, is a good thing.
How to make the most of my new coffee coconut water. A new smoothie recipe! And yes, it was a pleasurable experience to my tastebuds! Your brain will love it!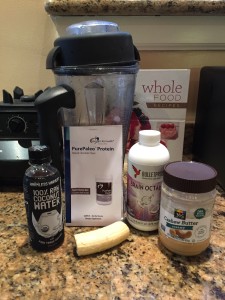 Chocolate Coffee Smoothie with Cashew Butter:
4 to 6 oz oz Harmless Harvest raw coconut water (the version with added fair trade coffee)
1/2 frozen banana
1 heaping tablespoon cashew butter
1 tsp Bullet Proof Brain Octane oil (optional for extra brain support)
1/2 scoop Pure Paleo Chocolate Protein
If you desire a colder smoothie, add a couple ice cubes
Blend and enjoy! YUM!