It's the holidays, and you went a little overboard last night. Had one too many of those sugary cocktails and ate way too many appetizers. And today you feel bloated, tired, and sluggish. You know that you need some help, something to get you back on track. Time for Beth's Bounce Back Smoothie! Rehydrate, replenish those minerals and B vitamins depleted by excess alcohol, and support your liver detoxification pathways!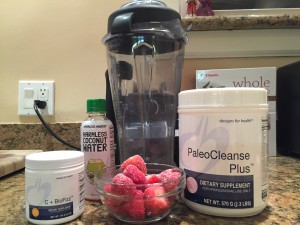 Recipe:
1/2 cup Coconut water (Source of electrolytes, including magnesium!)
1/2 cup frozen strawberries
1/2 frozen banana (can use regular too)
1 scoop VegeCleanse Plus powder
1 tsp C+BioFizz
*May add more water for a thinner consistency smoothie
Drink slowly within 20 minutes after making. And be sure to drink at least 2 full glasses of water within one hour of consuming your smoothie.
The VegeCleanse Plus powder is a great source of vitamins and minerals to replenish your body! It also provides 18 grams of protein per serving to stabilize your blood sugar and help curb carbohydrate cravings. And it contains all those special nutrients and herbs to support your liver! After all, your liver needs some help today! In addition, it contains greens for antioxi-dant support and extra fiber to fill you up, bind toxins, and stabilize blood sugar.
C+BioFizz is one of my favorites! This effervescent orange flavored powder provides a whopping 2500 mg of Vitamin C per teaspoon and it tastes good!
Enjoy and Bounce Back!