Happy New Year!  I am looking forward to an exciting year ahead and wish you happiness, good health, and your heart's desires in 2015!  I thoroughly enjoyed the holidays (even with an annoying cold) and certainly indulged in holiday treats!  I must say that it was fun to partake in foods that I normally do not eat; knowing that I would be ready to get back on track in early January!  And I was ready…started on Sunday and already feeling more energetic and sleeping better!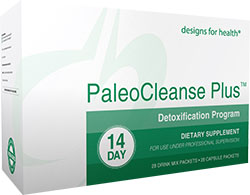 For those of you who would like a short and structured program to get you back on track and clean out the excesses of the holidays, I highly recommend the Designs For Health 14 day PaleoCleanse Plus detox program. I did it in September and loved it!  The program is SIMPLE and CONVENIENT! It comes in a kit with an easy to follow guidebook…nothing confusing to this program!  The PaleoCleanse Plus meal replacement powder tastes great and is free of soy, dairy, gluten, and artificial sweeteners. And you don't have to deal with canisters or scoops, the meal replacement powder is conveniently packaged in single serving drink mix packets that you open and blend with water or your choice of an unsweetened dairy alternative like coconut milk.  Of course, you can gat fancier and add fruit or greens to enhance your smoothie!
Two meal replacement smoothies a day along with specific capsules to support digestion of the protein powder and to support your liver in the detoxification process!  If you are not much of a cook or just don't have the time to put together meals, you will love the fact that you only have to deal with putting together one healthy meal per day.  You drink your shakes for the other two meals.  And if you are pretty active or just have a high metabolism, you can eat whole food snacks!  If you love to cook, then you can get creative with the one meal that you put together each day and you can also get creative with your shakes.  I love adding spices to my smoothies!
So if you do well with simplicity, structure, and want an easy program that you can fit into your busy schedule, check it out! And if you want to "clean out" and feel like a NEW person in 2015, this is for you!