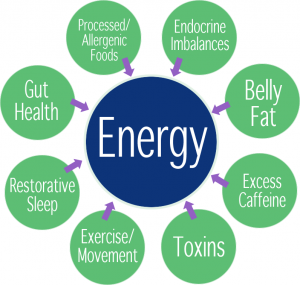 Today's modern lifestyle has certainly taken a toll on everyone's energy levels, with no get-up-and-go to keep them going. That's why I've decided to do this 7-part blog series dealing with the major fatigue-causing culprits people face these days. Over the span of these seven blog posts, I will be dealing with caffeine, processed foods, food sensitivities, stress, toxins and preservatives, fat storage, exercise, and endocrine imbalances.
But, I won't just be delivering a litany of causes. I will be providing ideas to help you jump-start your energy levels and get them back up again. So, I urge you to read every one of the revealing posts in this informative blog series.
First, I want to tell you about the energy-sapping foods that you take into your body.
Processed foods certainly are high on the list. These foods provide calories (usually more than you need), but they don't provide the vitamins, minerals, and antioxidants to drive your energy pathways and help you sustain steady blood sugar levels.
As you certainly have felt more than once in your lifetime, processed foods often make you feel very sleepy, especially one to two hours after eating them. They're the foods that actually rob you of the very nutrients you must have sustained energy.
Also sapping energy and making you tired are foods that you've become intolerant or sensitive to, because they can cause inflammation. For example, gluten protein, present in grains such as wheat, rye, barley, and oats, is potentially a concern for people that are "gluten sensitive" or "gluten intolerant." On top of gluten sensitivity, soy, corn, and dairy are common food allergens that can also drain your energy by causing inflammation.
Often food intolerances and sensitivities can be traced backed to poor gut health, which is often the result of poor food and lifestyle choices, lack of stomach acid and enzymes to help digest foods, OTC drugs, certain medications, and stress.
But these foods are only some of the concerns robbing you of your energy. For more, please be sure to read the rest of this blog post series, "The Energy Cycle: How to Get Back Your Get-Up-And-Go."
For an easy solution to get back your get-up-and-go, I've found that a three week cleanse program is an ideal place to start. Why? Because a cleanse program immediately addresses the processed foods and the highly allergenic foods. To learn more about how the 3-week cleanse can help you, CLICK HERE!