You asked for it, so here it is! Courtesy of Flavors of Health by Ed Bauman, PhD, and Lizette Marx, NC, my new favorite cookbook.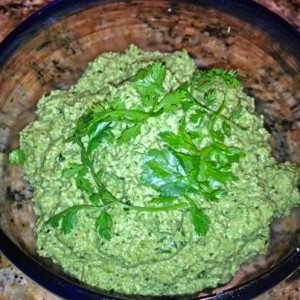 Cilantro Pesto with Toasted Pumpkin Seeds
Ingredients:
1 cup raw unsalted pumpkin seeds
2 cups fresh cilantro leaves
2 TB extra virgin olive oil
3 cloves garlic
¼ cup filtered water or more, as needed to make pesto smoother
Sea salt to taste
Juice of ½ lemon, used to taste
1. Toast pumpkin seeds in a dry sauté pan over medium heat for 1 to 2 minutes or until they start to plump and slightly pop. Shake pan from time to time to prevent burning.
2. Combine toasted pumpkin seeds, cilantro, olive oil, garlic, and water in a blender and puree until smooth.  Add more water if necessary to bring ingredients together.
3. Add lemon juice and salt to taste. Use pesto on chicken, fish, in soups, pasta, or over sautéed veggies.
Enjoy!