Travel this time of year can be challenging, especially when you sit next to someone on the airplane who is coughing and sneezing the entire flight!  Your heart goes out to that person but at the same time you wonder why you got stuck next to the sick person and pray that you don't pick up their bug!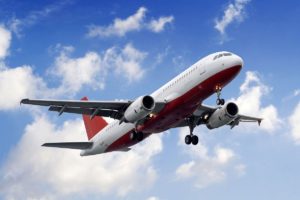 This is when being prepared comes in handy! Always have a bottle of Silvercillin Spray with you, no matter what time of the year. The spray bottle is 4 oz., unfortunately not TSA friendly, so just buy a smaller spray bottle and transfer the Silvercillin Liquid to your TSA compliant bottle. You can pack the bigger bottle in your suitcase that is being checked. When you get on the airplane, do a quick spray down of your seat area to eliminate any potential pathogens.  Also a good idea to use the spray on your hands after you use the ever so fun airplane toilet. Prevention strategy!
If someone sick is sitting close to you, I would also spray some in your throat…pathogens like to lodge there first!  And if you unfortunately get to your destination and feel a sore throat coming on in the next day or two, six sprays to the back of the throat three times daily.  It will either stop the virus in its tracks or at the very least reduce the severity and duration of the cold and sore throat.
As you might have guessed, Silvercillin  is one of my all time favorites! It has saved me and my loved ones over and over again!  What exactly is it?  A highly effective antimicrobial composed of pure silver complexed with purified water. It works so well at preventing colds/flus because it inhibits viral replication! It can be safely used both orally and topically with no known side effects. In fact, it is completely eliminated from the body within 48 hours.  More details here!
Before you leave on your trip, it's a good idea to take some extra immune support several days before your travel starts and while traveling as well.  These are my favorites this time of year:
And lastly, when traveling,  make a bigger effort to stay hydrated with water, veggie juices, and herbal teas.  Good rule of thumb is to drink one liter water before flying, one liter while flying (more if a longer flight!) and one to two liters after flying. Some flights still offer Vitamin C rich lime and lemon wedges…a good addition to your water!
Please use this code BETHG15 for a 15% discount on all your immune support support products, valid until 12/31/17 midnight!
Stay healthy during your travels and enjoy the holidays!!
Beth